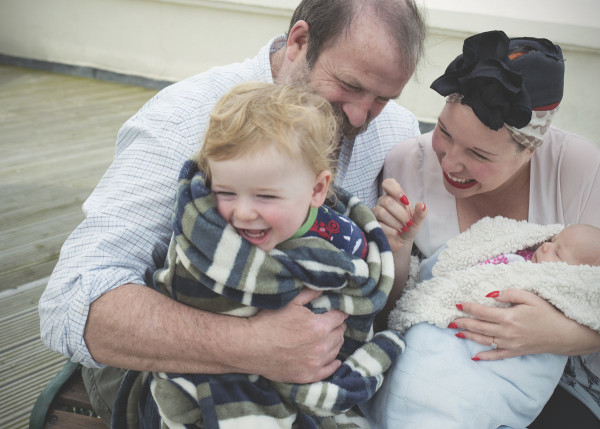 Husband and wife Dick Strawbridge and Angel Adoree are a determined, industrious and passionate partnership.
They fell in love in 2010 and neither could believe their luck. Now living in a fairytale castle in France with their young family, 4-year-old Arthur and 3-year-old Dorothy, they are firm believers in the harder you work the luckier you get.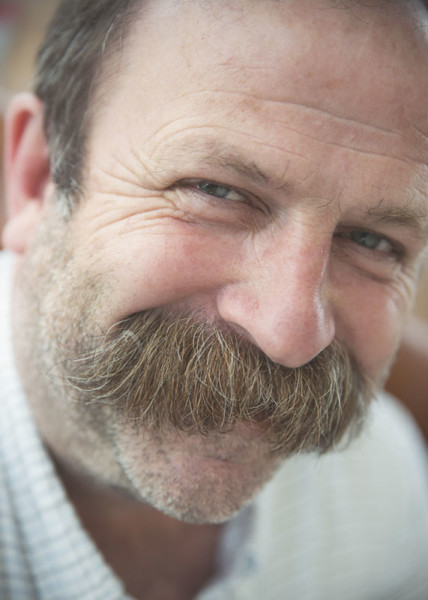 The third of seven children, Dick was born in Burma but raised and educated in Northern Ireland. He attended Ballyclare High School before going to Welbeck College (where he was Head of College)
and then to Royal Military Academy Sandhurst.
In 1979 he was commissioned into the Royal Corps of Signals, he retired as a Lieutenant Colonel in 2001. Dick served in Germany, England, the Caribbean, the Middle East and Northern Ireland. He has an honours degree in Electrical Engineering and received an Honorary Doctorate of Science from Plymouth University. In 1993 he was awarded an MBE for distinguished service in Northern Ireland.
After leaving the army Dick had a successful career as a Programme Manager, and then trouble shooter, for a large multinational company before becoming a full-time television presenter and author.
TV Tart
Dick arguably has the best moustache in showbusiness. He is a man of many interests, some of which are reflected in his successful and varied television career.  He hit our television screens in ScrapHeap Challenge and subsequent credits include 3 series of It's Not Easy Being Green and Celebrity Masterchef for the BBC and Hungry Sailors for ITV. 2015 took Dick across the pond to film Dirty Rotten Survival in America for National Geographic whilst filming Escape to Chateau for C4.  2016 saw Dick return for a 2nd series of ETTC alongside BBC4's Trainspotters and this year has been non-stop with a brilliant 3rd series of ETTC, Cabins in the Wild for C4 and a few other project's yet to be revealed! Watch this space.
For more details about Dick, please visit www.dickstrawbridge.com
Angel Adoree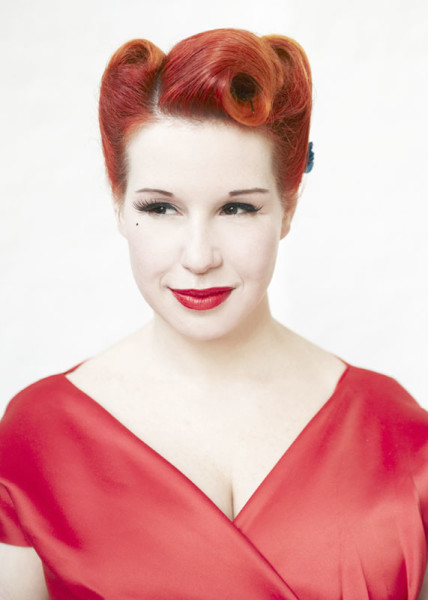 Angel is a 1940s vintage-clad redhead from East London. She is the founder of the Vintage Patisserie, a glamorous hospitality company and author of the best-selling 'Vintage Tea Party' series. She has touched the hearts of many a vintage enthusiast.
Humble beginnings and hard work have secured Angel coverage in nearly every glossy and national newspaper. Not to mention the fashion pack that have her on speed dial – Paul Smith, Kim Jones, Cutler and Gross, and Liberty's, to name-drop a few.
Hungry to grow the business even further, Angel applied for the BBC business series Dragons Den. In 2010, she touched the nation with her passion and heartfelt pitch which won not only the hearts of the Dragons, but also offers of investment and the patronage from Deborah Meaden and Theo Paphitis.
The Vintage Patisserie did indeed grow to new heights and in 2011 she opened her first Vintage Patisserie in Hackney, East London.  With 11 staff and ten events a week business blossomed.  A book deal followed and Angel's 'Vintage Tea Party' series has sold copies all over the world.
In 2013, Angel and Dick were blessed with their son Arthur Donald and in 2014  Angel and Dick could not believe their luck when Dorothy Francis was born. The couple married in November 2015 at their family home Chateau-de-la-Motte Husson.
For more details about Angel, please visit www.angeladoree.co.uk
Looking Forward
It has been 2.5 years since Dick and Angel moved into Chateau-de-la-Motte Husson and they are in agreement that moving to a new home, in a foreign country, in the middle of winter, with no electric, sewage or heating, and with two very young children, could be considered stupid.
With life more civilised (more toilets in place!) things is good.  Although still very busy with a flourishing business and filming, Angel & Dick make time to grab a few seconds a day to sit and remember how lucky they are.
Bringing a 45 room, 5 storey house back to life after years of neglect takes hard work and dedication. Dick and Angel have proven to have these in abundance.
With the Chateau's completion more than less, Angel & Dick have started to look to the future and ventured outside, the garden and outbuildings are starting to breath!
The Beginning….